There are always plenty of opportunities out there for hard working home builders wanting to start a Stroud Homes Franchise, but at the moment we're urgently calling for builders in Newcastle and North Sydney.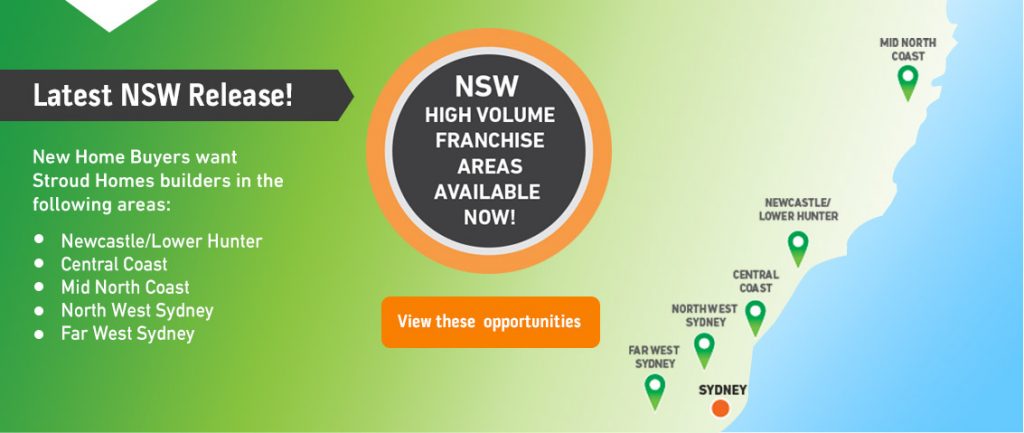 At Stroud Homes we look at a lot of data before we start a new franchise, making sure there are enough homes being built in the area for a new business to flourish.
We consider Housing Industry Association (HIA) data showing the number of detached, single buildings being built each year – looking for locations where there are between 500 to 1500 such homes going up annually.
But another consideration is places where we are getting enquiries even though there are no Stroud Builders or any advertising in the area.
This is what we're getting across NSW.
We have enquiries coming in from Newcastle, the Hunter region, as well as Northern Sydney locations like Kellyville and Penrith from people wanting to build with Stroud Homes.
And these areas have over 1500 new, detached, single buildings going up each year.
The business is there – the customers are there. What we need are dedicated builders to join the Stroud team.
If you're a builder in Newcastle or North Sydney, you're looking to make a commitment to improve your own lifestyle and you're willing to work hard to grow a sustainable business, Stroud Homes can help get you there.
By joining Stroud Homes as a franchisee you'll have access to plenty of training and support, especially in the initial starting stages, as well as proven management systems, innovative home designs, and an existing marketing strategy.
All new businesses face risk, but it's important to remember that not one Stroud Homes franchisee has ever failed!
There's a new franchise in Kemps Creek of South Sydney that has already sold 25 houses in its first 8 months.
If you're willing to do the work we can help with the support, advice, and management systems necessary to build a sustainable business.
For more information on available franchise areas and how we can work with you, contact Stroud Homes today on 0435 803 411 or enquire online to start your journey.